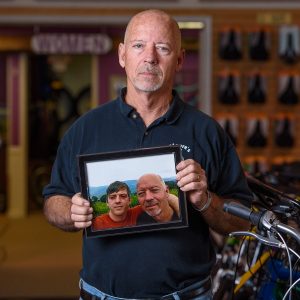 James' Story
James carries a picture of his son with him everywhere he goes. It's a constant reminder of why he became an advocate in the work to fight opioid and heroin addiction and death in Mississippi.
In 2015, James lost his 24-year-old son Jeffery to a heroin overdose. Jeffery began experimenting with prescription drugs while in junior high school and eventually started using heroin. After years of drug use and an attempt at treatment and recovery, Jeffery died from a heroin overdose.
After Jeffrey's death, James dedicated his life to educating families about the disease of addiction and works to dispel the stigma of addiction so people can more easily seek treatment for themselves or more effectively support the recovery efforts of those they love.
James travels across Mississippi speaking to first responders, local and state officials, and the public about the dangers of drug use and abuse and the importance of having the lifesaving medication naloxone available to treat people who have overdosed on opioids. He hopes that by sharing his story, he can change the perception of people dealing with addiction.
The views, information, and opinions expressed in this story are solely those of the subject(s) and do not necessarily represent any official policy or position of the Mississippi Department of Mental Health or any of the Stand Up, Mississippi campaign partners.