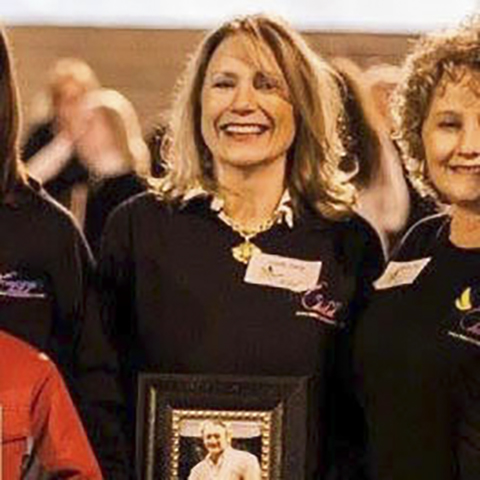 Linda's Story
"It took me years to get pregnant after getting a pituitary tumor removed". When I became pregnant with a son, God spoke to me and told he was going to do "great things" Linda Lary solemnly recalls.
Linda describes her son Michael as a Christian boy who loved The Lord. He was an overachiever who participated in every sport, and was one step away from becoming an Eagle Scout. He joined the National Guard in hopes of becoming an officer through college. He loved hunting and fishing and was an avid sportsman. Beginning his senior year in high school, he was chosen All Star-All State in football. Upon graduation from high school he was accepted into the University of Mississippi (Ole Miss). At Ole Miss he began his degree in Exercise Physiology hoping to then get accepted into Physical Therapy School.
When Michael started Ole Miss, a concerned friend told his mother he was smoking pot. We started to notice him not coming home much, always telling us he was so busy with his National Guard and a fraternity he had joined.
Later that same freshman year he contracted Meningitis which affected the lining of his brain and spine. He was in the hospital for several days and given constant pain relief shots. Unbeknownst to his parents he was sent home with 60 Percocet's. "We never thought to be concerned about a prescription the doctor gave him," recalls Linda. "Back then it just seemed normal to receive large quantities of pain meds for everything."
Michael's behavior became very different. He quit coming home and began giving excuses as to why he could not come home. He would come to family events late and leave soon after. His hobbies of hunting and fishing diminished greatly. All these things happened gradually. He would be sick on holiday's and always have an excuse why. We later found out he was in withdrawals, but we had no idea because it mimics the stomach flu. He began telling us he was addicted to marijuana to explain needing money often and told us how he struggled with that drug. "On numerous occasions Michael asked me for money, and I gave it to him," remembers Linda regretfully. She would put money into his account, instead of paying the bill because she believed him. Linda also thought if she stopped giving him money, he would get desperate and begin selling marijuana to feed his habit.
Upon graduation from college Michael informed his family he didn't want to become a physical therapist. The family was in shock because he had always wanted to help others somehow in a profession. He became a salesman instead, and he always felt people looked down on him because he did not do more with his life.
One day Linda received a call from Michael; he was crying and terribly upset. He told her that a friend had died from a heroin overdose. She tried to comfort him but did not understand why he was so upset. Next, Michael showed up at the house and confided in his parents that he, too, was addicted to heroin. Linda and her husband were shocked and had no idea what to do from there.
Michael moved back home with the intentions to get away from friends, live at home and get better. His parents prayed and prayed on what to do. Because they lived in a small town, they did not feel comfortable reaching out for help. Unfortunately, "home" did not work. Michael continued to use drugs. He contemplated suicide many times and told his parents he wanted to die because he had let them down.
One day Linda told Michael he needed to get help and he went to treatment. He left after 5 weeks. His mother was advised from the counselor to do tough love and not allow Michael to stay at home while using drugs. He overdosed that night and ended up in ICU. Now everyone in his hometown would know his terrible secret. He was so ashamed and humiliated.
Michael did go to another rehab after the overdose, and was able to stay sober for 5 months, but eventually relapsed with a friend after smoking marijuana.
"We found out Michael relapsed on a Saturday, and on Monday he was gone from an overdose," states Linda. The day leading to the overdose he broke up with his girlfriend and spoke with his sponsor, and told everyone God can do anything. "He put clothes in the washing machine, and then decided to do heroin one more time," recalls his mother. Michael's roommate came home and found him unresponsive. He tried to save Michael, as did the Paramedics, but it was too late.
"He just thought he could do it one more time! He had his white chip in his pocket from AA signifying he was not clean and sober but had gone to a meeting," remembers Linda tearfully.
His death and birthday and Christmas were all within 7 days. It was devastating for the family as well as the community.
"I can't describe the pain of losing a child. It's not something one can ever recover from, nor does it ever go away. You just learn to live differently." Linda explains of her life today.
Since losing Michael, Linda has become an advocate for ending the opioid epidemic. She's partnered with Stand Up, Mississippi to help raise awareness of how the opioid crisis is affecting hundreds of families around Mississippi.
Linda shares the struggles that Michael faced, and the challenges that she and her husband faced as parents trying to deal with a child in active addiction. "I don't want other parents to be in denial about their child's drug use like we were. Don't be too ashamed to ask for help. Fight for them." Linda urges.
Linda has committed to helping people in her community find treatment. She's shared her story with people around the state in hopes it will help others reach out. "Maybe this will be Michael's Great Things. His tragic loss will inspire others to turn their lives around. That's what keeps me going." Linda shares.
The views, information, and opinions expressed in this story are solely those of the subject(s) and do not necessarily represent any official policy or position of the Mississippi Department of Mental Health or any of the Stand Up, Mississippi campaign partners.